Rudy Project Teams Double Up at Nats
TIBCO-SVB Women's Pro Cycling's Lauren Stephens and
Rally Cycling's Joey Rosskopf
claim jerseys at USA Cycling National Championships
Cyclists often say that pain is temporary, but glory is forever. To extend that saying, glory fades, but a champion's jersey hangs on one's wall forever, a palpable reminder of the effort expended and a great victory claimed. Larger wins abound than a country's national championships, but to riders of that particular country, no other result will carry as much weight as pulling on a jersey adorned with the colors of their flag. Last month, two Rudy Project teams claimed the top step at the USA Cycling National Championships, capping two races of near-perfect execution.
Lauren Stephens Crushes the Competition
In the women's race, Team TIBCO-SVB played their cards perfectly, putting USA cyclocross champion Clara Honsinger in the early breakaway. Honsinger had countered the initial attack of another TIBCO-SVB rider, Emily Newsom, at the close of the third lap. Four other riders joined Honsinger and maintained a lead of almost two minutes until the waning kilometers of the race, when the breakaway, punished by the heat of Knoxville and the circuit's unrelenting hills, began to come apart with three laps to go. Honsinger remained at the front with one other rider, while Stephens launched a bid to cross the gap. "I looked back and saw that Lauren was coming across," Honsinger recalls. "I sat up until she arrived and then drove it as hard as I could to the final climb. From there she crushed it on her own and stayed away to the line." Three other riders (Kristen Faulkner, Honsinger, and Newsom) stayed inside the top twenty, making the race a true team success along with Stephens' solo victory.
"We were amazing today," Stephens says. "We had Clara [Honsinger] in the break from the beginning and we just made the race hard. I came across to Clara and she held me into that final climb. And then I just unleashed."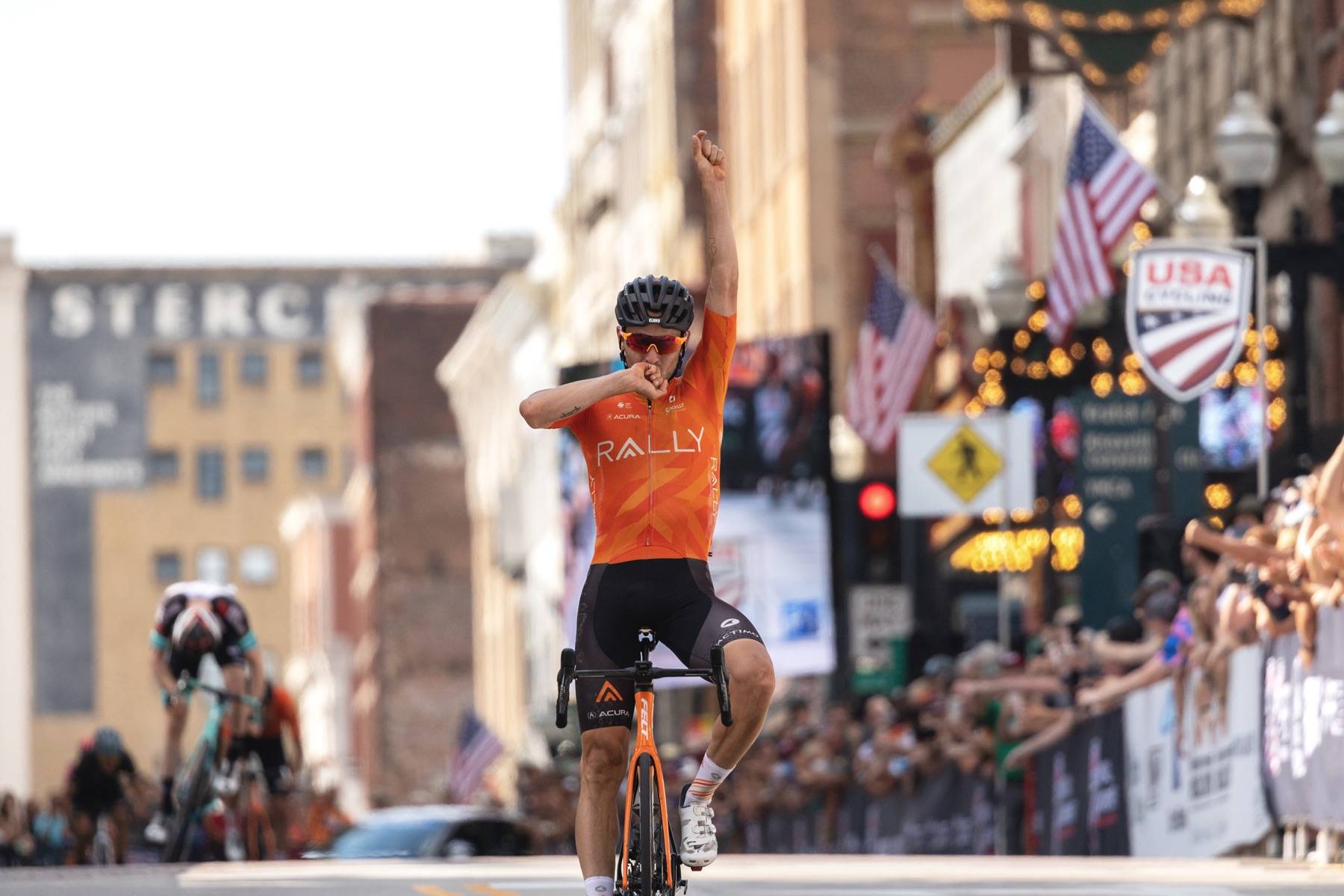 Joey Rosskopf Counters in Closing Kilometers
On the men's side, Rally Cycling's Joey Rosskopf claimed the iconic team's first national championship with a late attack from a rapidly dwindling field. Rosskopf's victory, like Stephens' on the women's side, was set up by a true team effort, as Kyle Murphy attacked early and stayed off the front until the final few laps of the 13 kilometer circuit. Murphy's heroics allowed Rally's other contenders Rosskopf, Gavin Mannion, and Nathan Brown to sit and wait for their moment. The field in Knoxville was one of the largest and deepest ever assembled, with 146 riders on the start line, hailing from some of the biggest teams in the world. Team Bike Exchange, Education First-Nippo, and Team DSM (WorldTour teams all) placed riders in the top ten, but weren't able to defeat Rally's team tactics. "We had guys up front all day long," recalls Rosskopf. "Every time a move went one of us was in it. I can't believe Kyle's race—to be off the front all day long and still finish third—that's just unbelievable." The pace of the race was unrelenting, with only 28 riders making it to the finish line.
"Sometimes, when there is a decisive feature on a lapped course everyone is afraid of it, which can neutralize the race," says Robin Carpenter, "fresh" off his 6th place finish at Unbound 200 in early June. "That didn't happen in this race—the hill was the main focal point of the race. So we played a numbers game, trying to have as many strong riders represented at the front all day long. National championships races are unpredictable, so we didn't have one leader—we had three or four guys saving themselves for the end of race: me, Joey, Ben, and Gavin. Everyone else was playing the numbers game, and they did a great job of staying out front, not feeling asleep, and making all of the splits."
An early move saw Rally well represented, with Colin Joyce and Magnus Sheffield making the selection. Murphy launched his all-day affair after Joyce and Sheffield were brought to heel with 138 kilometers to go, and when Education First-Nippo brought the gap down to under a minute, Rally helped shatter the peloton, allowing Rosskopf and Mannion to bridge the gap and join Murphy. With just over a lap to go, Rosskopf made his first move, attempting to solo home for the win. After ten kilometers off the front the breakaway reeled him in, and it looked like the responsibility would fall to Mannion or Murphy to defeat the other riders.
Rosskopf has won two other jerseys before, in the time trial in 2017 and 2018. The plan had been for him to win solo all along, but when he was brought back to the group he wasn't sure he'd have the legs. "He saw the other leaders looking at each other with 6.5k to go and decided to attack again," said Clark Sheehan, Rally's DS. "They didn't follow. It was crisp and clean."
Rally Cycling has "been trying to win this race for 15 years," says Jonas Carney, the team's performance director. "We finally did it. The guys rode a superb race. Kyle Murphy was an absolute animal, and we couldn't have done it without his amazing ride."
Rosskopf and Stephens will now wear their stars-and-bars jerseys in road races for the next year. Rudy Project congratulates the two riders and teams on their victories, proud to support athletes at the highest levels of the sport.
---