The Best of the Best, When They're at Their Best
"Yo Yo Yo" Sam Long is mature beyond his years
Sam Long, the young triathlon star from Boulder, Colorado known for his "Yo Yo Yo" salutations, his unblushing "Big Unit" nickname, and his public and positive rivalry with Lionel Sanders qualified for this year's Ironman World Championships way back in 2019 when he won Ironman Chattanooga, but between May and June of this year, he almost decided to turn down his slot. "I sat down with my coach and said 'I would rather skip Kona entirely and focus on St. George with what just happened at Tulsa,' and that's how Coeur d'Alene was born. I needed to prove to myself that I can compete at an Ironman." For anyone unfamiliar with triathlon news coverage, Long proved that and more on an historically hot day in Coeur d'Alene, Idaho in late June, riding away from Sanders and then dropping the Canadian again on the run, as he went on to record his second Ironman victory and validate (in his own mind) his place at the top of long-distance triathlon.
An Off Day in Tulsa
Tulsa, to wind the clock back a little bit to late May, certainly hadn't gone badly, but the 13th place finish—even in a championship field—stood out from Long's consistent climb to the top of results over the past three seasons. "I had a great swim," Long recalls, "probably my best swim yet in, like, low 52 or something, and I still ran 2:56. Lots of people said things like 'Sam had a terrible day, but it was still an 8:08 on an off-day in a strong field." Long had focused on Tulsa, though, as a chance to see where he would finish against athletes he would likely see in Hawaii, and the result shook his confidence.
Long spent most of the day leading a chase pack of almost 20 athletes, surging many times in an effort to bridge across to the front group, and by the time he came to the run he had spent a few too many bullets. "I was frustrated, but ultimately what I took out of Tulsa is that it was my own fault for how I raced. I let the race play out the way it did rather than put my own stamp on it. To be honest, what I would do now would be just climb off my bike, let that group go, and then just do my own thing."
Tweaking for Coeur d'Alene
Between Tulsa and Coeur d'Alene, Long and his coach, Ryan Bolton, sat down to discuss the race and to plan some changes. Bolton assured his charge that he would compete at Kona, but Long wanted to know. "'You don't have to race an Ironman,' my coach told me," Long says. "'I've seen your numbers, I know what you can do,' but I was like 'I don't really care.' I need to know it in my heart and in my feelings, not just that I've had good Ironman races in the past and that my fat burning numbers are good. That stuff, to an emotional athlete, doesn't mean anything." Long's first change between Tulsa and CDA was his mental approach. As a big, brash, loud American, many don't associate an intellectual and emotionally intelligent approach with Long, but he has done extensive mental training with his mother, Bette Long, psychologist and Ph.D., and on his own. As Long has improved, he's discovered that he needs to address his mental game in parallel with his physical training. "When I get better in performance, I've found that I need to make sure I also level up in mindset. If I don't do that, my next race is usually a bad one. Expectations change, there's more attention from age groupers and the media, and being aware of that and preparing for it makes me better when the gun goes off."
In addition to his mindset, Long addressed a strength limitation that held him back at Tulsa, a painful lower back. "I'd been arching my back while swimming, and I was in a lot of pain by the time the run came around, so I shifted from traditional weight training to 20 minutes of core work each day, and I think that helped quite a bit." Finally, he and Bolton shifted the nature of Long's taper to more accurately reflect the demands of an Ironman. As a Big Unit with a significant amount of muscle mass, Long can mobilize large anaerobic reserves in his training and racing. That ability dumps rocket fuel on his short- and middle-distance racing, but can hobble him late in an Ironman. "Instead of 3x20' at 370 watts where I'm taking in lots of carbohydrates, we'll make it 3x20' at 300 watts with limited carbohydrate intake," he describes.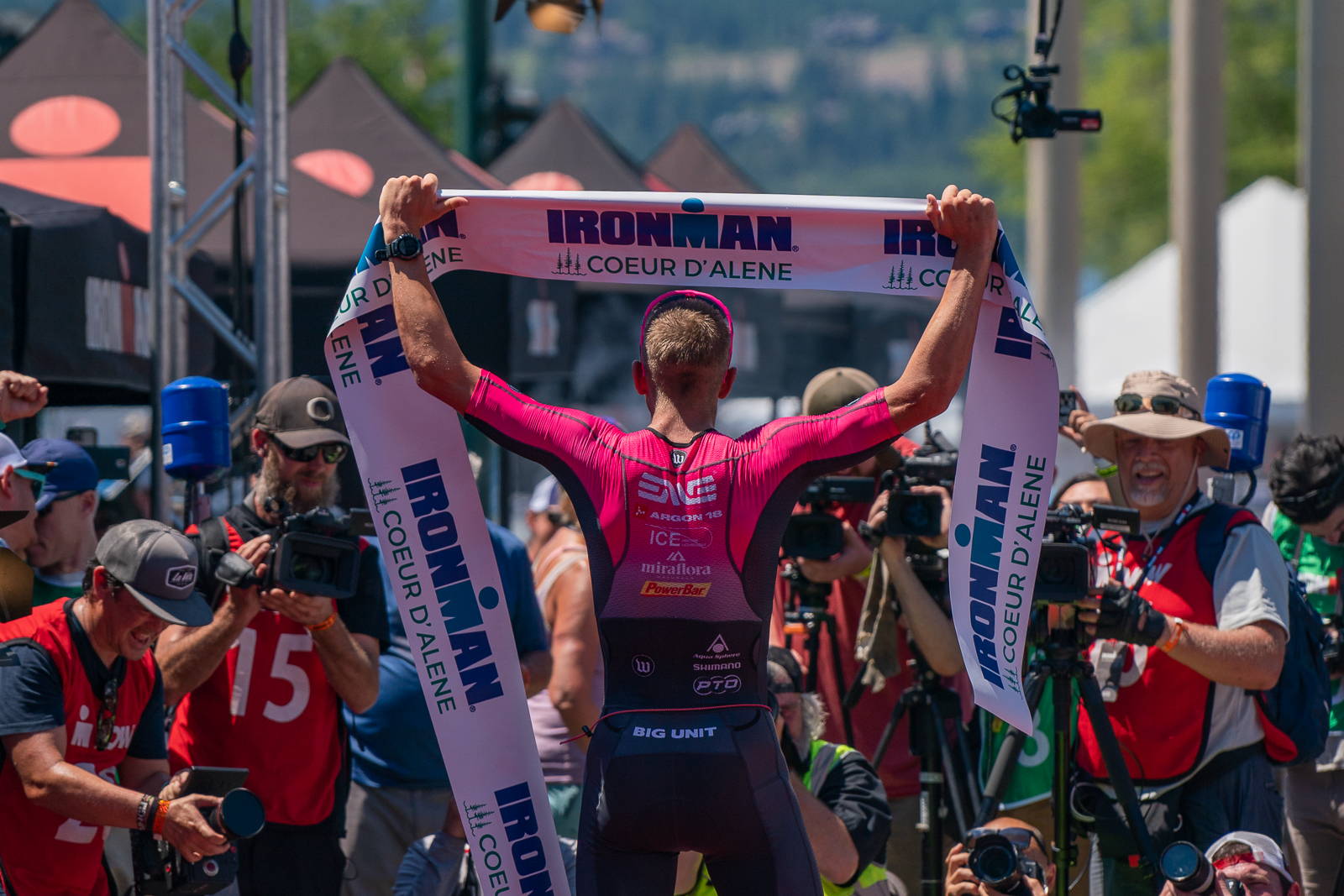 The result? Long "paced, paced, paced" himself to a patient Coeur d'Alene where he put Sanders on the ropes, forcing the Canadian to chase for the first nine miles of the run. "I was running 6:07/mile, and he had to run 5:54 in 100° heat for nine miles to catch me. Lo and behold, what happened? He started to struggle with GI distress." Long went on to set the course record in those extreme temperatures, a testament to his racing maturity.
An Off-Road Holiday
After Coeur d'Alene, Long went on a short holiday to Crested Butte, Colorado, where he...swam and biked and ran. When you love your job, why not do it on your breaks? "There was no training plan at all. I rode my mountain bike every day, did some trail running, and swam in this high-altitude lake at 10,000 feet." Long's first entrée into endurance sport was on the mountain bike, which surprises those who don't know him. "When I was ten years old, I didn't really like riding my bike," Long remembers. "I liked going fast downhill, so I would ride like a maniac to get the uphills done as fast as possible. Turns out I was training pretty well for a 10-year-old!" That holiday led directly into Xterra Beaver Creek, one of the oldest off-road races on the North American circuit, and one that sat conveniently in Long's backyard of the Colorado Rockies. What happened? Well, he didn't win, but he did come in second, along Xterra royalty Sam Osbourne and 7-time Beaver Creek champion Josiah Middaugh. Long raced with his dad, Big Unit, Sr., saying "Truthfully, it makes me feel like everybody else out there. The result was great, but I was there to love racing and feel the love for triathlon." Next up, Long has the double World Championship schedule, with 70.3 Worlds next month and then Kona after that. His 2021 season thus far? "It's been going well. I've seen that I can compete on the world stage and really be up there with the best of the best when they're at the best of their best." It's been 19 years since an American last stood atop the podium in Hawaii, but a confident Sam Long wouldn't be out of the realm of possibility.
---