Birdworx: The Business of Personalization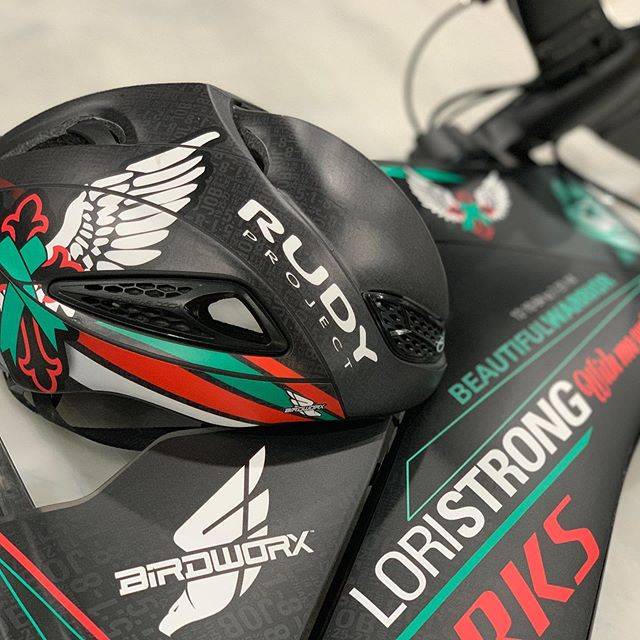 Jason Curtis was destined to work in the family business, loading, crushing, and mining sand and gravel. By his mid-twenties, he could run every piece of equipment in the yard, from end loaders to rock plants.
During that time, his family's passion for motorsports took hold. Jason and his father jumped in the water and began racing offshore powerboats. They had some great success, winning the North American Championships. Jason's need for speed soon moved back on land as he began chasing his love for motorcycles and racing at the local Willow Springs track in Rosamond, California. With several wins and a few track records, he decided to travel the AMA Superbike series in the States.
To maintain his fitness for motorcycle racing, Jason spent a lot of time on his road bike. It grew into yet another passion - in more ways than one, as it turns out.  
No matter what Jason was doing, he always had his art. His sketchbook was never far away and you could find him coloring, imagining, and drawing just about anywhere. He jokes that in high school, he wasn't the best student but he always received good grades in art class.
He's the type of personality who looks at something and thinks about how to dress it up, make it unique, or add something personal. That viewpoint applied to his Superbike motorcycles as he designed several team bike graphics during his days of racing. Naturally, his artistic side segwayed into his passion for road bikes and eventually transformed his hobby into a business.
The founder of Birdworx, Jason now works with many of the top athletes on two wheels, creating custom gear, bike and vehicle designs. And the story that got him there has a familiar background to it as it all started in his garage.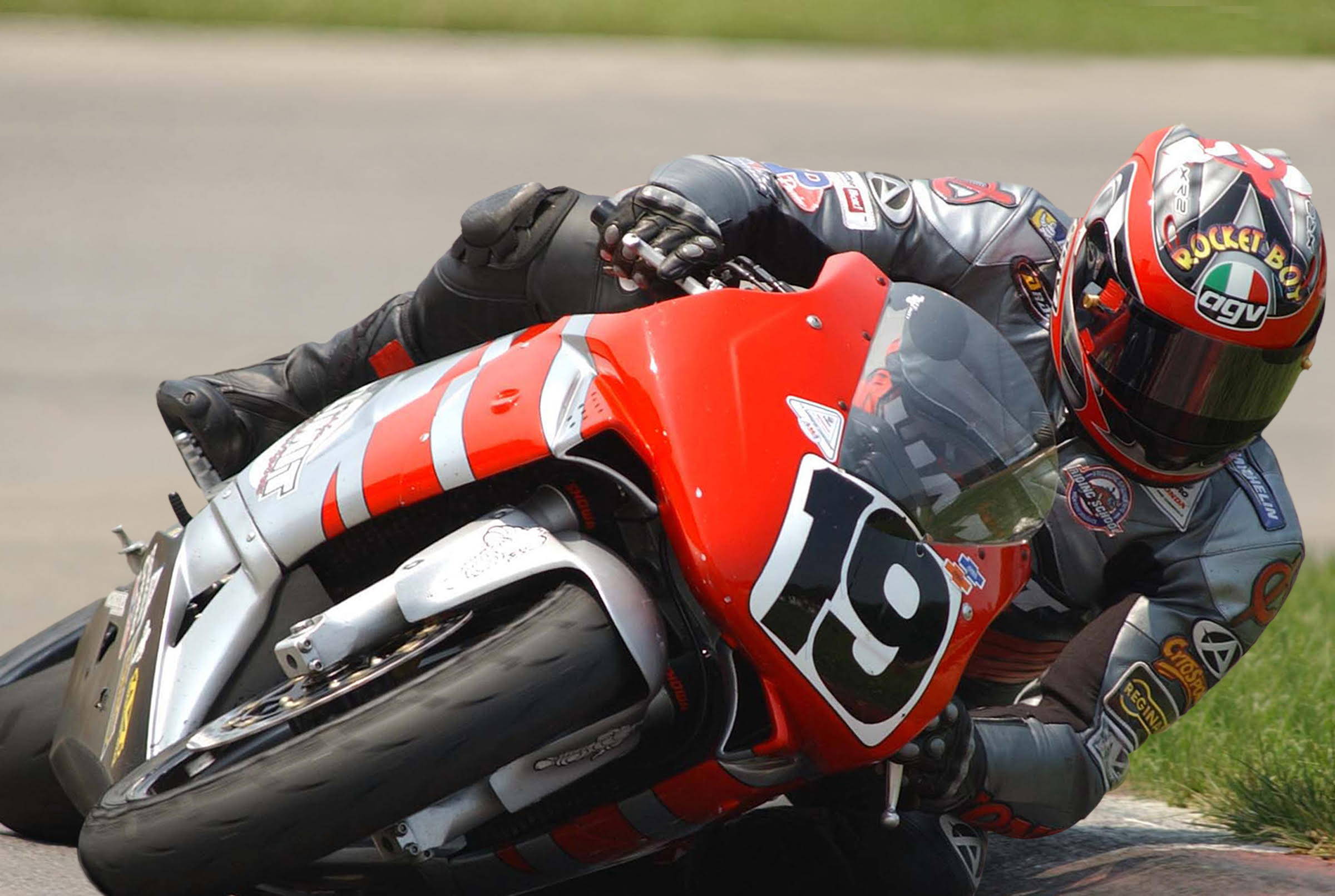 How did Birdworx get started?
"I've always been into drawing and art while growing up," says Jason. "It wasn't something I planned to do, it was just something I liked to do - just sitting and drawing and sketching. I grew up in a family of miners. We were concrete, sand and gravel people, so I was always pushed to do that, which was a good thing, but at the same time I always did my art."
"Even when I was traveling, racing Superbikes full time, I was always helping my team with their artwork. I was doing their designs for their motorcycles and they thought it was kind of strange that their rider was doing their art, but eventually that pushed into trying to do a business.
"When I got into cycling I knew there was something that was lacking. There was no way to put some type of livery on bikes. The market was big but there wasn't anyone doing anything. There were vehicle wraps and motocross graphics, so I just jumped in and learned how to build templates and custom graphics.
"When I got started, I had to figure out a name, but I couldn't figure out what I wanted to call it. Growing up, I always had little stick legs and people called me 'Jay Bird,' so I decided to call the company 'Birdworx' after my stick legs, which are still stick legs. [laughs]
"I started doing graphics out of the garage with a printer and a laminator. It was more of a hobby. I didn't think it was going to take off.
"We decided to move to Tennessee and then things started taking off. Teams were sending me a lot of products and I was having to fly back and forth to California, so my wife and I realized that we needed to be in California to be around the action sports world and grow the brand.
"After I moved back, I started riding with Matt Easter and built a friendship. Matt was kind enough to say, "Why don't I come in and help you get organized." So he did and I thank god for Matt every day.
"And we've just been going. We grew it out of two cubicles into having our own building now."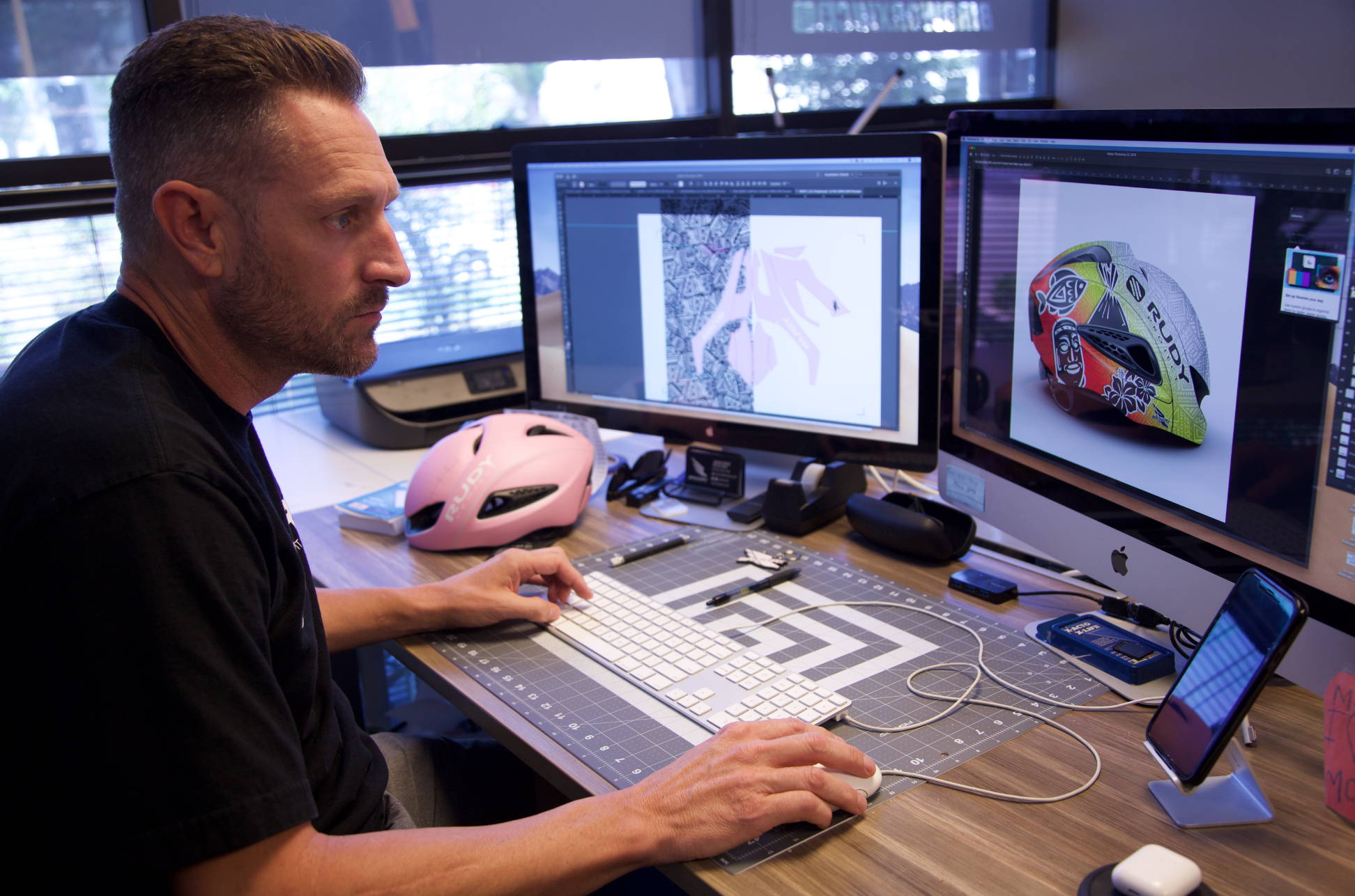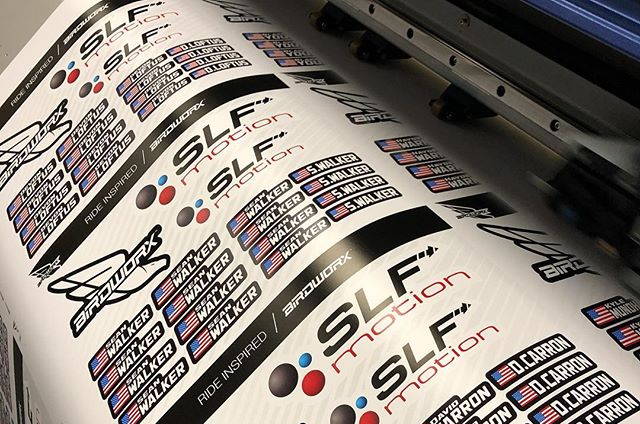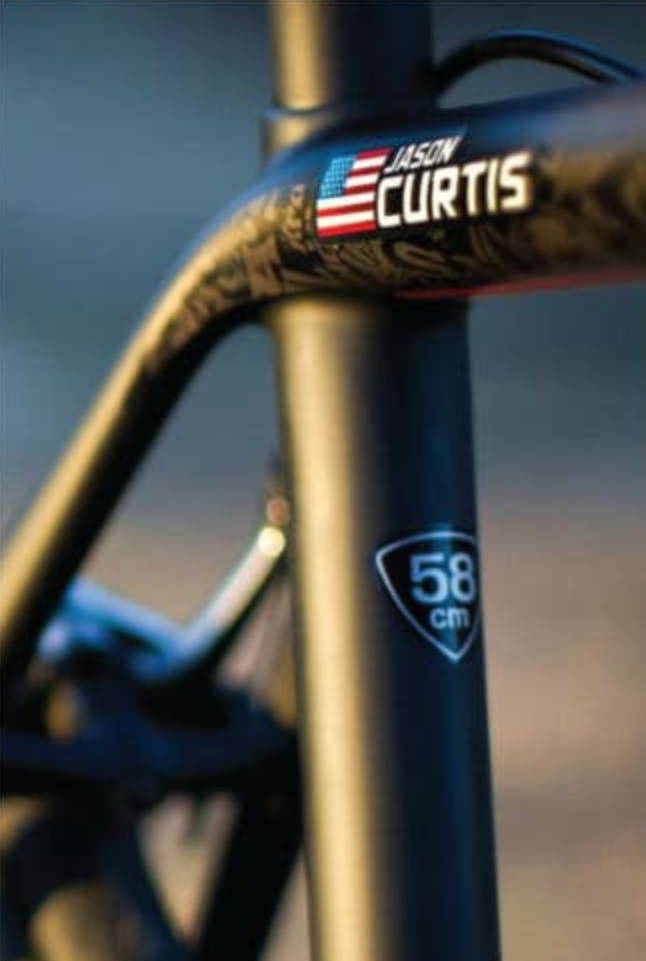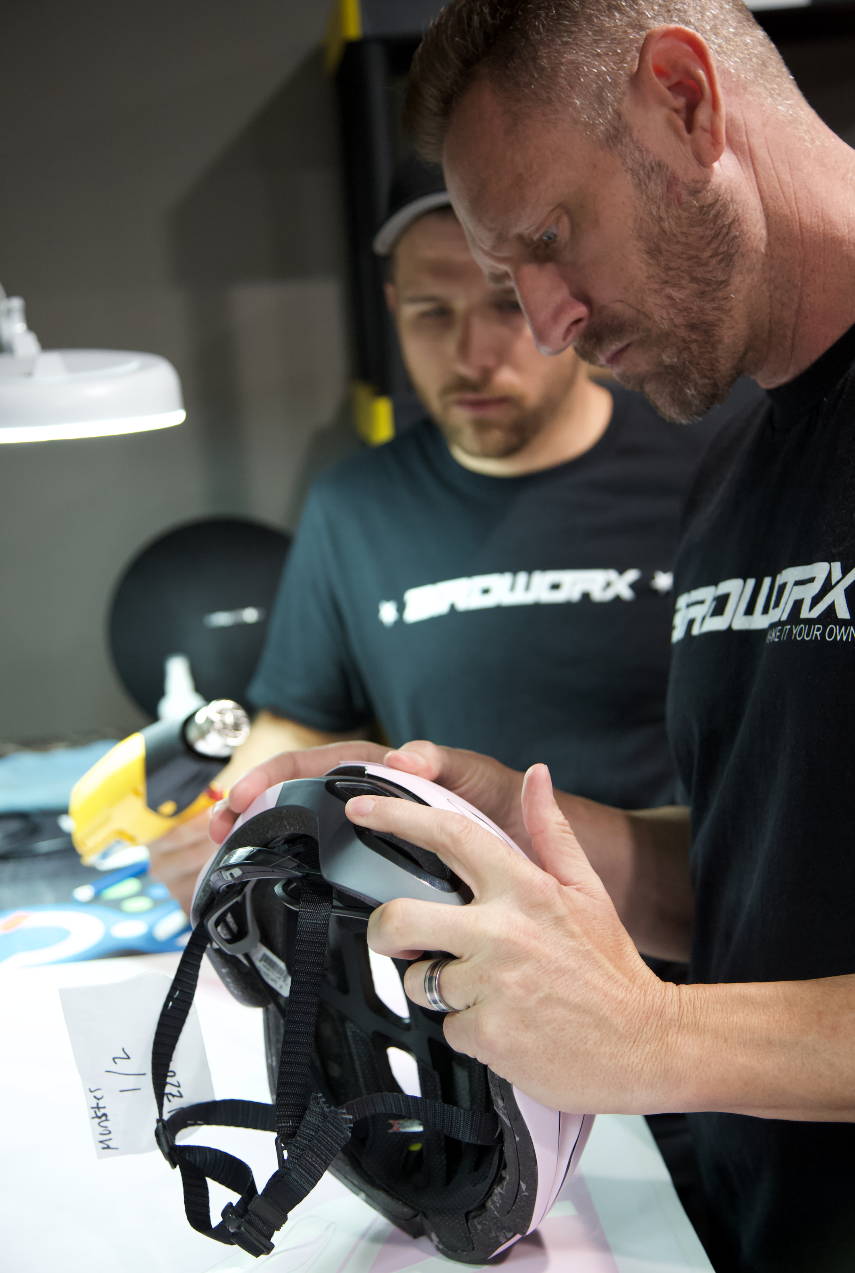 What products and services does Birdworx offer?  
"We basically started doing Wheel Skins. Wheel skins turned into offering Name Plates on the side of the bikes, which a lot of people are using. Then we developed Helmet Skins, which is a bit more challenging because we have to hand make every template for every size and every shell. We offer Garmin Computer Skins and we can actually do full skins on bikes but we don't really offer that up except to elite athletes. We can do vehicle wraps. We did all of Wildlife Generation's stuff - vehicles, Name Plates, helmets, and even their coolers and suitcases. Basically, we can do any type of branding materials for action sports teams and individuals.
What is your main role at Birdworx?
"I do a lot of the design work for Birdworx. I do probably 95% of the artwork. Beyond that I help the production guys run prints and do some install.
"Matt tries to keep me in my seat doing design work. He's the President and he runs the day-to-day."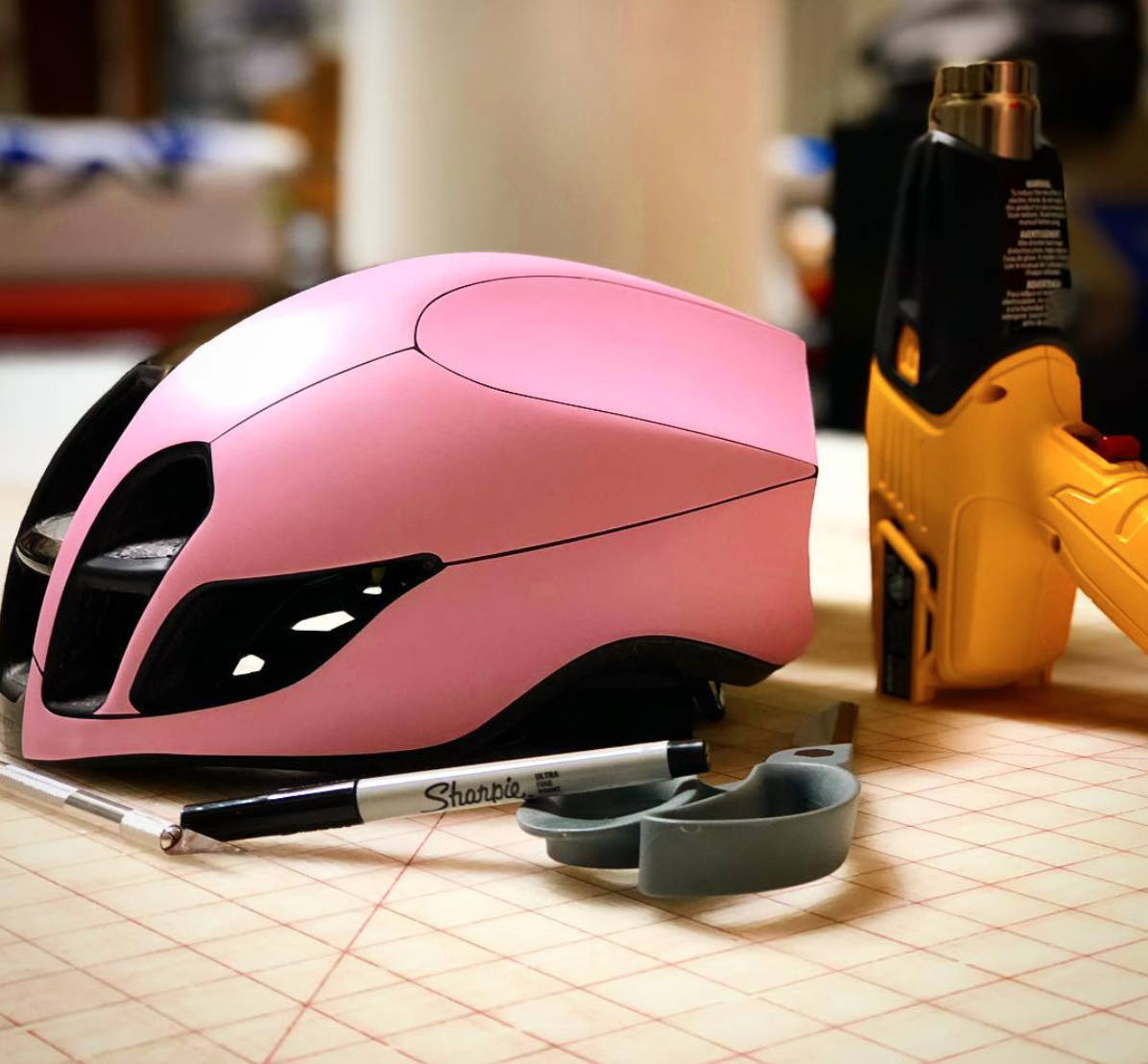 How did you start working with Rudy Project?
"There was a guy named Dan who work for them and they wanted to do a custom Boost helmet for one of their inline skating teams. I did some design work for him and they really liked it so he connected me with Chris Lupo, the Director of Sports Marketing. We were successful with a few helmet designs and Rudy Project jumped in with both feet. We've done numerous projects together now and it's been great.
"We've worked with several of their athletes and the athletes talk to each other and the next thing we knew, we had almost all the top five athletes in everything that has to do with two wheels.
"When we went to the Kona World Champs last year, we did a special project for Wattie Ink that they sold and it was really successful."
You created a few custom Rudy Project helmet skins for the Ironman Triathlon World Championships in Kona this year, as well?
"Yes, we did four designs for Rudy Project on two different helmets."
Where did the inspiration come from?
"I think of the cycling and triathlon worlds as two different animals. Cycling in general doesn't like a lot of change, but in the triathlon world, I felt I could go outside of the box a little bit. Matt and I knew from last year's designs that we could go a bit crazy this year and throw it out there. When I was thinking about this year, I wanted something that both males and females would like, something that wasn't really gender-specific. I wanted something that represented the Hawaiian/Polynesian feel but had a little bit of cartoonish flair. I wanted something that people would take away and almost use it as memorabilia for the event. I wanted something that racers would use to show people and say, 'Ya, I was at Kona.' I wanted the designs to be something that represented people being there.
"Last year we were flying back from Hawaii and the guy sitting next to me had a Rudy Project helmet bag on his lap the whole time. He almost had his seatbelt around it. [laughs] When we landed, I said, 'Hey, you've been holding onto that Rudy helmet bag. What is it?' And he said, 'I'll show you. It's something very special from Ironman.' He opened it and it was my design on his helmet. I said, 'Oh, that's fantastic. I'm with Birdworx and I designed that helmet.' He was like, 'No way!' and wanted to take a photo with me. I was blown away. This guy probably trained for years for the World Champs and he took home the helmet as a keepsake. It was super cool."  
That's a great story and something many of us can relate to. Anything you'd like to add?
"It's been really, really cool working with Rudy. We really feel like we owe them a lot of thanks for trusting us to brand their company. It's been great."
See USA TRIATHLON FOUNDATION LIMITED EDITION HELMETS
---