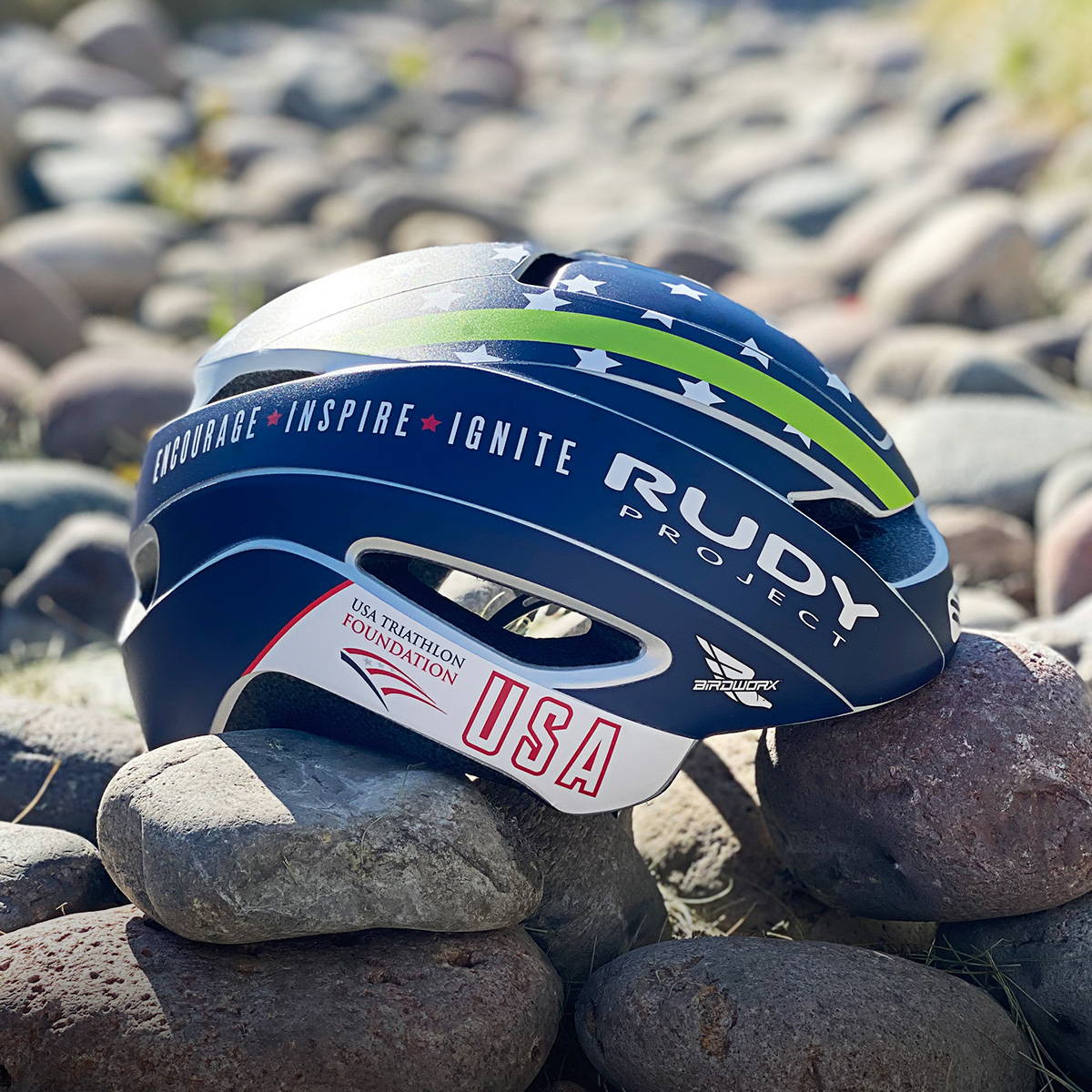 Details
About Volantis
About Graphics
Features
Size Chart
Limited Time Offer
USA Triathlon Foundation Volantis Special Edition Helmet
Help support the USA Triathlon Foundation whose mission is to "transform lives through sport by providing opportunities to swim, bike and run." With Rudy Project NA and your support this limited edition helmet will help Encourage kids to lead a healthy and active lifestyle, Inspire physically challenged individuals to participate in para-sports, and finally Ignite the dreams of our Olympic and Paralympic hopefuls.
Last day to place your order: December 31, 2020
Orders expected to be fulfilled within 2-3 weeks.
Optical shield not included
The Volantis blends aerodynamic performance and functionality. The round shaped design is perfect for triathlon, track cycling and for all the cyclists who want to reduce aero drag and benefit from the Rudy Project most advanced technologies such as internal airframe, RSR 10 retention system and the removable optical shield (not included).
About Birdworx Custom Graphics
All Birdworx Graphics are printed and laminated with the most durable materials available on the market today. We also use a unique Air Release Vinyl which allows micro air-bubbles to escape from under the graphic material.
Graphics Care
It can be common for some small areas along the edges to peel up or some small air bubbles to form. The vinyl materials have a natural memory and tendency to flatten out, especially with hot and cold temperature changes. A little bit of heat, (ex. hair dryer) gently applied, will help these edges to lay back down. A little pressure with the finger will help the adhesion process. Typically, once a graphic is worn in the sun once or twice, the adhesion will be properly cured.
Oils and sweat can also have an adverse effect on the adhesion of the graphic. We recommend soaking the unit in warm water, without soap or chemicals, once a month or as needed.
Lastly, avoid crashing. We've found this to be the quickest and easiest way to ruin a perfectly good set of decals. Be careful out there! Ride safe, ride often and "Ride Inspired".
Graphics Warranty
Birdworx warrants that all Products supplied by Birdworx shall meet the applicable Product Specification, shall be free from material defects in materials or workmanship, and shall be warranted for a period of 90 days from delivery. Birdworx, at its election, shall replace any items not conforming to quality standards of material and workmanship for such Products.
Fastex Buckle Closure System
9 Vents Flow Through Ventilation
Air Frame Band
Removable Flip Up Visor (Sold Seperately)
Free Pad interchangeable Comfort Padding
Divider Pro Side Buckles
Adjustable RSR10 V Retention System

USA Triathlon Foundation Volantis Special Edition Helmet
Awesome helmet
This helmet will perfectly match my Team USA uniform. I will wear it proudly when I compete.